Stirrup Leathers
No-Stretch-No-Break' Stirrup Leathers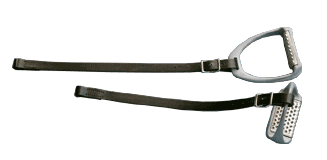 At last, a stirrup leather that does not break or stretch!
Our advanced 'non-stretch', abrasion resistant stirrup leathers are made from three layers of leather bonded to an ultra thin, heat set nylon-web core. They have Conway Loop adjustment at the stirrup end which reduces bulk under the rider's thigh.
NB When ordering we will need to know the adjusted length of your existing leather
Premier Dressage Leathers
Tired of bulky stirrup leathers underneath your leg? These single thickness leathers can make a big difference to your comfort especially under your upper thigh.

Made from soft leather with a strong nylon core to resist stretching they have a loop at one end that slips over the stirrup bar of the saddle and are adjusted with a neat T buckle.
Adjusts from 52 cm to 64 cm.

Available in black or brown.