Suber Saddle Pads
THE SUBER SADDLE PAD


The Suberpad is the invention of David Ahn and has been developed after many years of research and development, and is now available in New Zealand.

The Suberpad is made from cork from the Tree "Quercus Suber".The tree is not harmed by harvesting the cork and is sustainable and environmentally friendly.

When the Suberpad is placed under the saddle it acts like a bean bag, and moulds itself to the precise shape of the horses back, helping the saddle fit perfectly. The rider's weight is distributed evenly and the pliability and mobility of the cork in the pad gently massages the horses back, and also allows freedom of the shoulders and spine. The construction of the Suberpad is such that the granules are retained in an ideal position, and as the Suberpad causes the saddle to 'hug' the horse's back so closely that the saddle is stabilized, it does not slip about. Breast plates and other devices that are sometimes used to prevent saddle slippage are no longer necessary.

The Suberpad can be used wet or dry and does not harm the horse, and it is especially appreciated by horses with very high withers or muscle wastage on the back.

When the saddle is removed from a horse after using a Suberpad the upper surface of the Suberpad bears the imprint of the saddle, and the lower surface takes on the exact shape of the horse's back, like a wax impression. Even little bumps on the horses skin such as fly bites, are catered for, the soft cork filling flows around them and then gently 'sets 'under the pressure of the saddle.

A quick shake of the Suberpad to loosen the granules and it is ready to take the exact shape of the next horse. It can be machine washed in warm water.
No detergent is needed, as absorbed sweat acts as a foaming agent.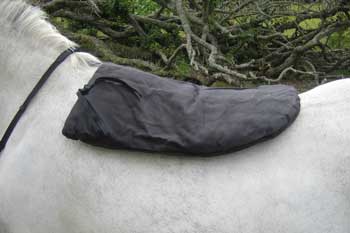 The Suberpad comes in either Black or Brown in Standard format, Western (larger and higher density as shown) and a Full flap model.
Price
Standard Close Contact $295.00
Western $325.00
Full Flap (Numnah) $350.00
For all models please add $9.95 P & P